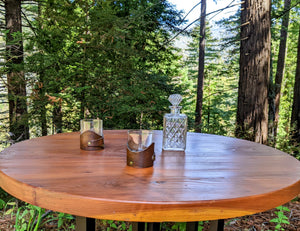 Three Generations of Craftsmen
Our History
My grandfather emigrated from Sweden. As he and his family grew, they traveled across America, looking for home. Rumor of the beauty of the Monterey Peninsula sparked a dream, and in the early 1900's he purchased property with the vision of raising our family with a familiarity and reverence for the wild coast.
===========================
The legend of Norngaard is rooted deeply in Norse Mythology. The Norns are represented as female beings who create, control, and protect fate. There are exactly three of them- each named for the realms they guard. Urd, "The Past", Verdandi, "The Present", and Skuld, "What Shall Be".  
My father believed the Norngaard fates symbolized a unity between the eternity and magic of untaimed nature and the paths of our lives. He named our homestead "Norngaard"- imortalizing it with a brass plaque mounted on the fireplace.
Our Commitment to Craft
I learned woodworking from my father. A gifted sculptor, he fostered my passion through books from his library of artisinal woodworking techniques brought from the old world.
Each Norngaard piece is designed and created from a lifetime of practice.
Our promise to you
We are comitted to honoring the natural beauty of our California wildnerness through our products. Behind every Norngaard item is tradition, thought, pride, and love.
We hope each piece created will bring those same sentiments from our family into your home.